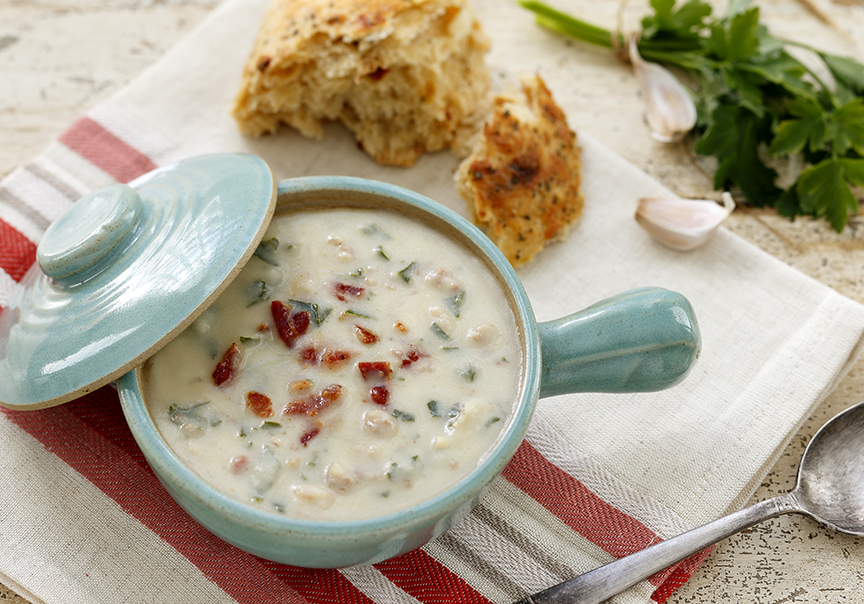 I was eight years old when I first learned about Florence, Italy. I was instantly smitten. I think my love of the movie, "While You Were Sleeping," with Sandra Bullock's lifelong dream of traveling to Florence only contributed to my interest of this beautiful city with its rust orange-colored roofs.
I have yet to visit Florence, or any other cities that make up the region of Tuscany in Italy, but it's still right at the top of my "someday I will…" list. Since Tuscano Soup or zuppa tuscana is a soup made in the style of Tuscany, it came as no surprise that I loved Mary C's Idahoan Tuscano Soup which won 2nd place in our 2014 Soup Contest on Facebook.
This soup is traditionally made with sausage, bacon, potatoes, cream, red pepper and onions. It's like getting to taste a little bit of Italy in your non-Italian kitchen.
We loved Mary's recipe that substituted the heavy cream normally used for milk and our Roasted Garlic Flavored Mashed Potatoes. Using our Idahoan product as a thickener allowed for a lighter version of this deliciously creamy soup with the same great Italian taste.
Ready to stir it up? Get the recipe here.