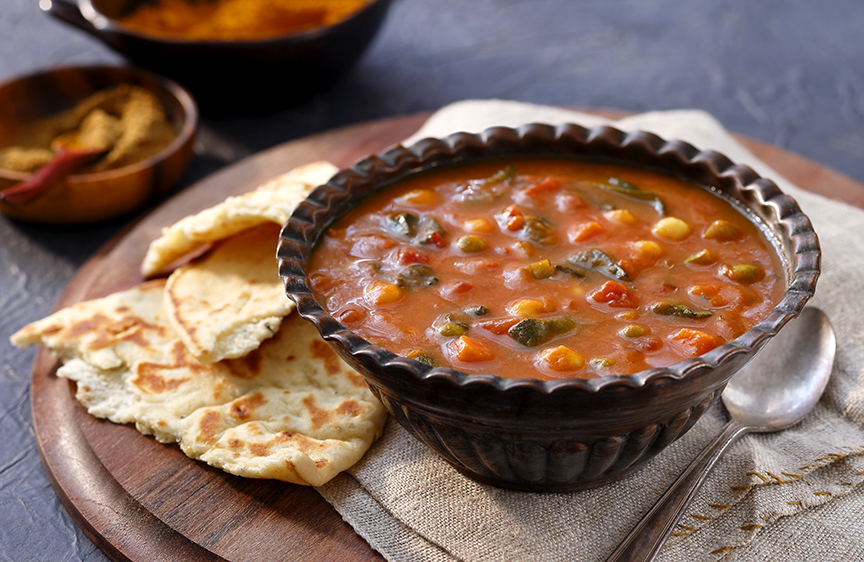 "Wow—that smells good. Can I have some???" are the sweetest words Susan L, third place winner in our 2014 Soup Contest, said she could hear from her husband. He is part of Susan's motivation to create plant-based meals so perhaps it is to he that we owe thanks for this uniquely spicy soup that we loved so much.
With its full-of-vegetables, low-in-salt, ethnic taste, Susan L's Spicy Indian Potato Bean Soup offers a great contrast to our other two winning soup recipes. It's a lighter, spicier soup just in time to make for a great summer meal.
"Nowadays, my family is looking for ways to include more plant-based, whole foods in our diet," Susan said. "Leaving meat behind doesn't mean giving up on taste, though. No way!"
Susan grew up using Idahoan® products, and still today her favorite is our Original Mashed. "I like it for its simplicity, and for the ease with which I can add it as an ingredient when I'm creating new recipes for my family. It is also a great product for those with health challenges who need to avoid specific ingredients in today's processed foods. Simple is good!"
Along with her search for healthy foods, Susan loves Indian food and based this soup recipe off of Chana Masala, one of her favorite Indian dishes. To try Susan's healthy, delicious soup check the recipe out here.