Traveling for business for over 20 years is not very glamorous or fun. Missed planes, lost luggage, strange hotels and most of all, time away from family, adds to the challenge. However, on occasion there is a silver lining. That moment came a couple of weeks ago in NYC at Eataly, located in the culinary hotspot of  the Flatiron District.
Enduring a very cold ride on a tourist open air bus, Eataly came into focus.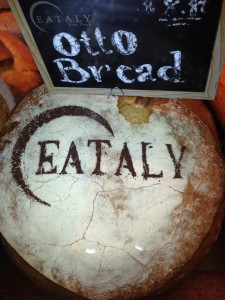 The 50,000 square foot building is the concept of Mario Batali and Joe and Lidia Bastianich. And what a concept it is! From cases of beautiful cheeses and meats to vegetables, breads and seafood, and every olive oil conceivable, this place is a must stop and see for anyone even remotely interested in food.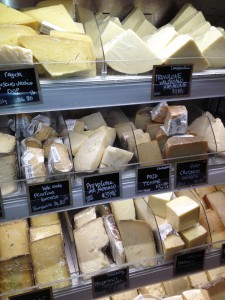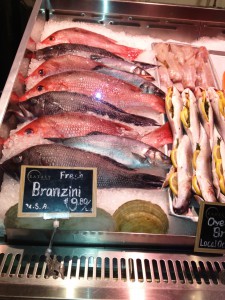 Besides all the delicious market foods, there are seven… yes, SEVEN, restaurants under this roof. Too many choices and too little time, however Birriera, located on the roof top, was the choice of the day. After all, it's not every day that you will enjoy the Empire State Building as your view.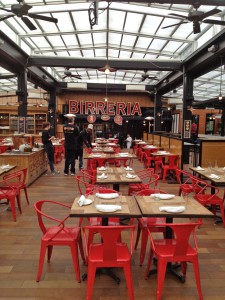 The menu was simple and as breathtaking as the view. My lunch choice, a cinnamon-laced cotechino sausage, was easy since it reminded me of my Grandmother's cooking. It was all about the potato at Grandma's table – maybe the source of inspiration for my career choice? – however, the mashed rutabaga here was a delicious twist.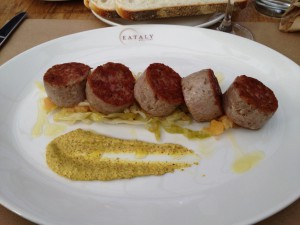 It's all about presentation! We are going to try this meal in the Idahoan display kitchen with our Buttery Honestyle Flavored Mashed!
All was topped off with a stop at the gelato counter with the most difficult choice of the day….which flavor? I must admit I was a bit envious of my colleague's salted caramel gelato but my lemon flavor was certainly refreshing.
Take your own tour of Eataly at http://www.eataly.com/
More of the NYC trip to come in the next few weeks including a walk to the Chelsea Market via the High Line and a culinary tour of Greenwich Village and Soho!