This entry is by a guest blogger – our Idahoan chef, David Macfarlane!
As a child growing up in Scotland, potatoes were an essential part of every meal. One of my most memorable foods as a child (OK I also admit as an adult also) is a dish known as stovies. It is a dish composing of a meat stew and accompanied with potatoes. Every time I have this dish I am reminded of when I was first finding foods I really enjoyed in my life and started to develop an appreciation for the way these foods were prepared. Below is a recipe from which I used Idahoan Au Gratin Homestyle Casserole to make a version of stovies that is perfect for those long cold nights in winter. I hope you will try this dish and share your Idahoan experience with us.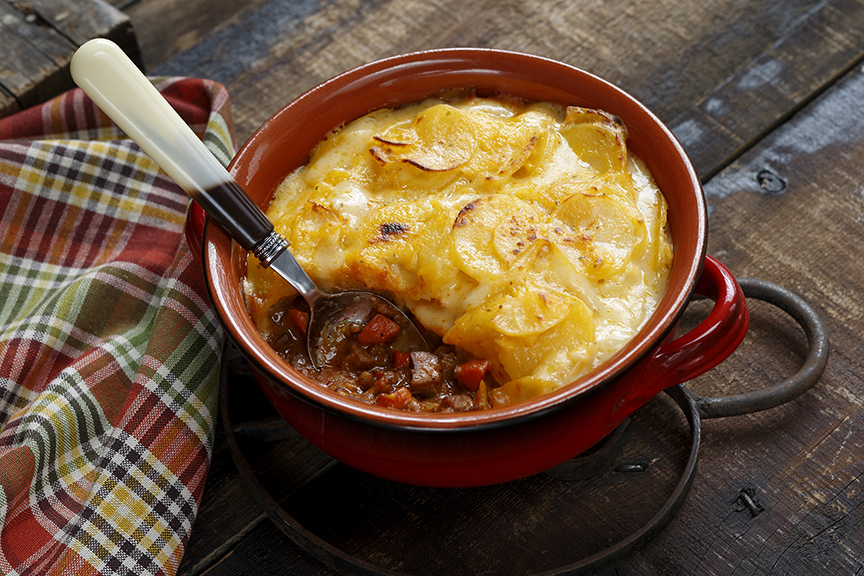 Scot's Au Gratin Shepherd's Pie
Serves 4
Idahoan® Au Gratin Homestyle Casserole
1 Tbsp olive oil
1 Tbsp butter
Salt & pepper
1 ½ lbs diced lamb (note: if you use beef, use sirloin diced)
Flour for coating
¼ cup onion, fine diced
¼ cup carrot, fine diced
3 Tbsp tomato paste
2 cups beef stock
1 bay leaf
Instructions
Preheat oven to 450°F.
Heat oil and butter in a stock pot. Season the meat with salt and pepper.
Coat the meat completely in flour and sauté in the stock pot. Get it good and brown over medium heat. Don't be afraid to get the meat nice and dark.
Once browned, add the vegetables and tomato paste. Mixture should be good and thick. Slowly add the beef stock while stirring the meat till meat is covered with liquid and continue to stir. Add bay leaf.
Cover and let simmer on low heat for about 30 minutes to really incorporate the flavors as well as thicken.
In a 1-quart casserole dish, pour stew into dish. Prepare a box of Idahoan Au Gratin potatoes following package directions for stove top and pour over the stew mixture.
Place in a pre-heated oven covered for 15 minutes then remove cover and continue baking for another 15 minutes.