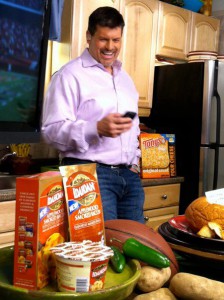 Last week we were in NYC to tape a TV food segment for game day appetizer tips with three time Super Bowl champ, Mark Schlereth – drafted from the University of Idaho so we knew he loved potatoes!
We all got pretty hungry looking at the bountiful array of goodies on set and it was a source of inspiration for a quick and easy dish for this Sunday's big game – Super Mashed Potato Bowls!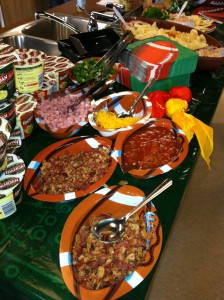 Super Mashed Potato Bowls

Any flavor of prepared Idahoan Mashed Potato Cups
Green onions, chopped
Packaged bacon pieces
Packaged diced ham
Cheddar cheese, shredded
Prepare mashed potato cups per directions on package and then have fun adding the toppings! Hopefully this will inspire some great ideas for potato toppings from your kitchen.
No matter what team you're cheering for, we hope you spend Sunday surrounded by good friends and good food because really isn't that what it's all about (well… that and the commercials)? Cheers!