Don't get me wrong – I love Thanksgiving dinner. Big tables covered with even bigger linens. Folding chairs pulled from deep in the closet. The one day a year the china and crystal really get to sparkle.
And, of course, there's the food. At our house, it's all about tradition. A fruit salad that my mom has made ever since I can remember; stuffing with a strong hint of sage; a big, golden turkey that my brother always carves.
Then there's the family stories that almost always get alluded to if not retold in their entirety. Like the year that my mom thought because she had prepared sweet potatoes that we didn't need to have mashed potatoes too. We've never come as close to having a full family revolt as we did that day, and you can be sure, there's never been a Thanksgiving since that there wasn't a big bowl of mashed potatoes front and center on the table.
All of this is wonderful but there's something to be said for the time after the main event. When most of the friends and family have gone home, the dishwasher is humming away and the card tables are tucked away for another year. And even though it's almost mind boggling to think about being hungry again, out come the leftovers.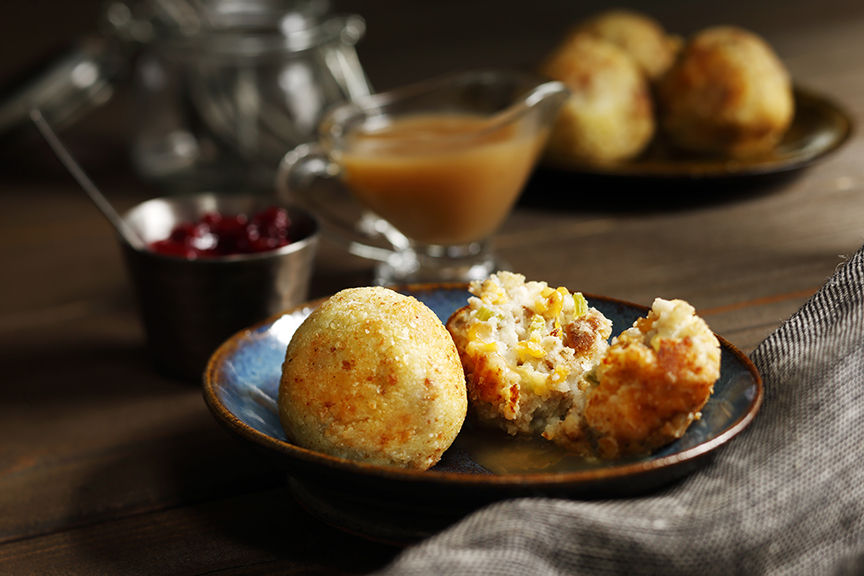 This year we have an easy way to combine some of those leftovers into a fun snack. These Mashed Potato Balls are a mix of mashed potatoes and stuffing, with a little cheese thrown in for melty goodness. They can be pan fried or baked for a crispy and golden brown outside with a soft center. Cranberry sauce and warmed up gravy make great dipping sauces. Perfect for the family sprawled across the couch watching a movie or the last of the holiday football games.
We here at Idahoan try to remember to be thankful year around. Thankful for the beautiful place we live, our hardworking employees and potato growers, and, of course, our customers. You all help make Idahoan what it is. For that, thank you and happy Thanksgiving.