We woke up on Saturday to 4 inches of new snow and howling winds. After a couple of hours of clearing driveways and sidewalks it was time for some comfort food. My family loves a big pot of chili simmering on the stove and I love making a huge pot and freezing half of it for later to solve the problem of "what's for dinner tonight?"
The recipe for this chili came from our colleague's son, Justin. That's where the name "Bull Rider" comes into play. Justin and his brother, Ryan, have been riding bulls since they were little squirts and are card carrying members of the PBR and EPB. Some of our best recipe concepts come from them when they get together with their buddies.
Justin hosted a potluck on Super Bowl Sunday and someone forgot to bring the condiments for the chili. He saved the day by topping his chili with our Fiesta Dip.
Remember that you can cut this recipe in half but I always go big in order to freeze half of it or to feed the staff at the Idahoan office. You will need a huge stock pot if you make the full recipe.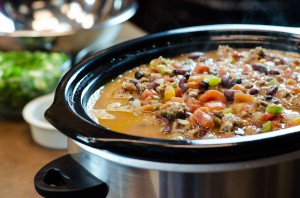 Bull Rider's Chili
Serves 12
2 4-oz packages of Idahoan Bacon & Cheddar Chipotle Flavored Mashed Potatoes
4 Tbsp olive oil
6 cloves of garlic, minced
1 large yellow onion, chopped
2 red bell peppers, diced
2 green bell peppers, diced
4 lbs ground beef (you can also add some hot Italian ground sausage for more heat)
6 large cans of diced tomatoes
2 small cans of RO*TEL® diced tomatoes with chiles (RO*TEL® is a registered trademark of ConAgra Foods®)
4 cans red kidney beans, drained and rinsed
2 cans black beans, drained and rinsed
Sauté garlic, onion and peppers in olive oil until onions are transparent. Add meat and brown. Stir in tomatoes and once mixture is very hot, add the packages of potatoes. Mix thoroughly, add beans and simmer for at least one hour on medium heat.
Gather up your own buckaroos and serve the chili topped with a large dollop of Fiesta Dip.