What makes summer the best season of all? Is it the weekends spent camping or days cheering on your favorite team at the ball park? Or is it the food?
I am a fan of hot dogs during the summer time, but not just your average over-the-fire or afternoon-at-the-ballgame hot dog. This hot dog is much, much better. Some of you are probably thinking that's impossible. Don't get me wrong—campfire hotdogs have that smokey taste and it is kind of impossible to go to a baseball game and not get any of the concession stand food.
The hot dog that beats all other hot dogs though is the Idahoan® Picnic Dog. This hot dog includes Idahoan Buttery Homestyle Mashed Potatoes with stone ground mustard mixed in. Topped with bold colored veggies like green celery, red radishes, and a pop of purple from the onions – well, that's what makes the Picnic Dog stand out. Stick to roasting marshmallows over the fire and getting nachos at baseball games, because once you have the Idahoan® Picnic Dog you won't want a hot dog any other way.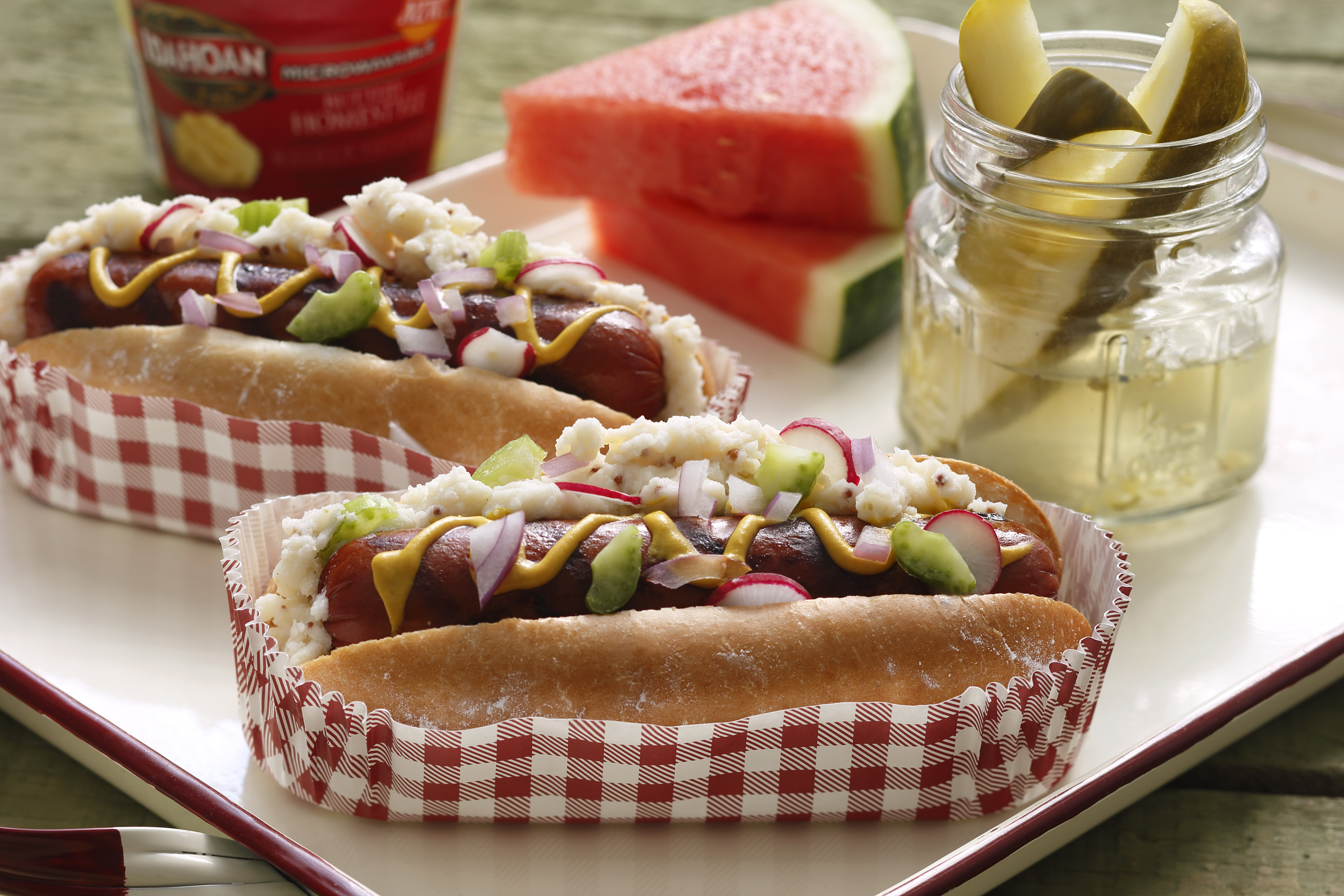 Idahoan® Picnic Dog
Ingredients
1 Idahoan® Buttery Homestyle Mashed Potato cup
4 Kosher style hot dogs
3 Tbsp stone ground mustard
4 Potato flour buns
Celery, chopped
Radishes, finely diced
Kosher pickle spears
Yellow mustard
Red onion, finely diced
Instructions
Grill hot dogs until done.
Prepare Idahoan Buttery Homestyle Mashed Potato Cup according to package directions and stir in stone ground mustard.
Place sausage on bun and spread potato mixture on top.
Add toppings to your taste. No ketchup needed!