My dad, a long time farmer and gardener, always says that peas should be planted on Saint Patrick's Day. It's one of the first things put in the ground each year and I use this day in the garden to work in a few other seeds – lettuces, radishes, green onions and carrots. It's a sure sign that spring is here.
Now I'm picking those peas that were planted just a few weeks ago and besides eating them fresh (with a little butter!), I've been experimenting with working them into new dishes. Thus came the inspiration for this recipe for Baby Red Mashed Potatoes & Peas alongside a meatloaf loaded with herbs and spices for a fresh flavor that is worthy of sitting next to my fresh-from-the-garden peas.
Not everyone might be lucky enough to be able to walk out the backdoor and pick peas, but hopefully you have access to a good farmer's market. The kind where someone that still has a little dirt under their fingernails sells produce that only hours earlier was still in the ground or on a vine or tree. And if not, don't fret – frozen peas will do too.
For me, this dish signifies the beginning of what will hopefully be a long and bountiful harvest season. Enjoy!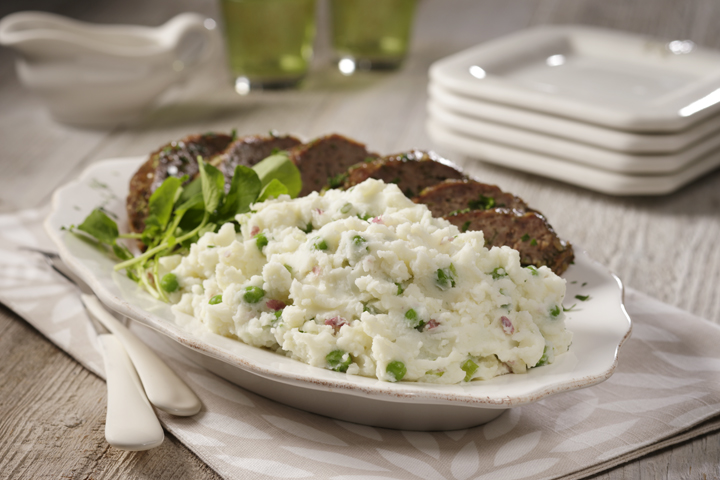 Baby Red Mashed Potatoes & Peas with Spring Meatloaf
Serves: 4
Idahoan Baby Reds with Peas
1 4-oz package Idahoan® Baby Reds® Flavored Mashed Potatoes
¼ cup half and half
1 Tbsp butter, softened
Scallions, green parts, finely chopped
1 cup fresh peas (frozen peas will work too – thaw them first)
Spring Meatloaf
1 ½ lbs. ground lamb or ground beef
Salt and pepper
2 slices white bread, crusts trimmed
¼ cup milk
1 bunch scallions, white parts finely chopped (reserve green parts for Idahoan Baby Reds with Peas)
¼ cup fresh parsley, finely chopped
¼ cup fresh mint, finely chopped
2 cloves garlic, finely chopped
1 egg, lightly beaten
1 Tbsp lemon zest
Extra virgin olive oil for drizzling
Position a rack in the middle of the oven and preheat to 400°F. Line a baking sheet with parchment paper. Place the meat in a large bowl and season liberally with salt and pepper. In a small bowl, soak the bread in the milk, then crumble the bread into the meat. Mix the scallion whites, parsley, mint, garlic, egg, lemon zest and a healthy drizzle of olive oil in to the meat. Using your hands, form 4 mini loaves about 1½? thick or shape into one large loaf. Place the meatloaf on the prepared baking sheet and roast in the oven until cooked through, about 15-18 minutes. Prepare Idahoan Baby Reds following package instructions. Stir in half & half, butter, scallions and peas. Serve hot with meatloaf.