Our colleague Dan's birthday cake is an homage to his Irish heritage – good timing with St. Patrick's Day right around the corner. He has been the inspiration and Irish subject- matter expert for a couple of our recipes so it seemed only fitting that his birthday should be properly celebrated with something very delicious and deeply chocolate.
This recipe originally came from one of our favorite Food Network stars, Nigella Lawson. A little alteration here and there (like including Idahoan's Original Mashed Potatoes) to this wonderfully rich cake made with Coca-Cola and a new favorite was created!
Best served chilled, this cake received thumbs up from our birthday laddie and our Idahoan staff. Original Mashed Potatoes make it very moist and gluten free.
Note: Use a spring form pan for best results.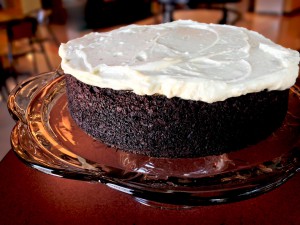 Idahoan Coca-Cola Cake
aka: Dan's Birthday Cake
2 cups Idahoan Original Mashed Potatoes, dry (from the 13.75 oz or 26.2 oz box—NOT from the 2 oz pouch)
1 cube + 2 Tbsp unsalted butter
8 oz Coca-Cola (or Guinness for an adult cake)
1/2 cup unsweetened cocoa powder
1 3/4 cups superfine sugar
1/2 cup sour cream
2 medium eggs
1 Tbsp vanilla
2 1/2 tsp baking soda
2  8-oz packages cream cheese
1/3 cup heavy cream
3/4 cup powdered sugar
Preheat oven to 350°F. Coat the sides and bottom of springform pan with nonstick cooking spray.
Melt butter in a large, wide sauce pan. Add cola (or beer), cocoa powder and superfine sugar and whisk until smooth. Remove from heat. Whisk sour cream, eggs and vanilla thoroughly until almost a batter-like consistency and add slowly into the slightly cooled butter mixture. Add dry Original potato flakes and baking soda. Stir thoroughly. The batter will have a slightly grainy appearance but don't be concerned. Pour into spring form pan and bake for 45 minutes to an hour. Test center of cake with a wooden  toothpick (cake is done when the toothpick comes out clean). Cool and remove from springform pan. Note: This is a very dark and dense cake.
Frosting:  Ice cake once it is thoroughly cooled. The cream cheese should be at room temperature. Add cream and powdered sugar and mix in a food processor or with a large whisk. Adjust powdered sugar and cream to ensure a nicely thick frosting that is still spreadable. Frost just the top of the cake once it's "unmolded" and serve chilled. This cake is even better the next day!