With Cinco de Mayo right around the corner, I have Mexican food on the brain. But I almost always have Mexican food on the brain so this isn't exactly anything new but what IS new is our Bacon & Cheddar Chipotle Flavored Mashed Potatoes. Inspired by this new product as well as the pending holiday celebrating the heritage and pride of Mexico, it seemed like the perfect time to put on some merengue and get cooking!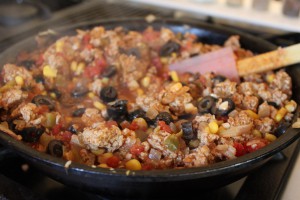 My mom used to make a dish she called Spoon Bread Tamale Pie that was a childhood favorite. I used that recipe as a base, but lightened it up a bit by incorporating ground turkey instead of beef. With the veggies and loads of spices you get big flavor with less calories. Topping it with Bacon & Cheddar Chipotle Flavored Mashed Potatoes makes it reminiscent of a Mexican shepherd's pie and adds that one little last kick of spice.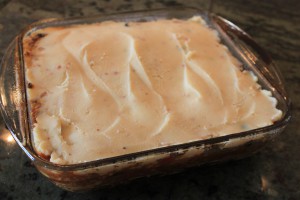 Serve with your favorite hot sauce, salsa and a dollop of sour cream (or plain yogurt) and look forward to leftovers that are even better the next day (if there are any, that is). Let the fiesta begin!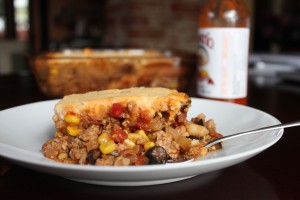 Idahoan Mexican Casserole
As if this recipe didn't have enough kick, topping it with Idahoan Bacon & Cheddar Chipotle Flavored Mashed Potatoes definitely takes it up a notch.
Ingredients
1 4-oz package Idahoan® Bacon & Cheddar Chipotle Flavored Mashed Potatoes
1 Tbsp olive oil
1 medium onion, chopped
1 clove of garlic, minced
2 tsp chili powder
½ tsp ground cumin
1 tsp salt
¼ tsp black pepper
1 lb ground turkey (regular hamburger could be used too)
1 14.5 oz can diced tomatoes with chiles
4 oz can chopped green chiles
1 cup corn, canned or frozen
2.25 oz can sliced olives
Instructions
Preheat oven to 350°F. Spray 9"x9" baking dish with cooking spray.
Prepare mashed potatoes following package directions. Set aside.
Heat oil in large sauté pan over medium high heat. Add onions and cook until translucent, about 10 minutes.
Stir in garlic, chili powder, cumin, salt and pepper and cook until aromatic – about 1 minute.
Add ground turkey and cook until browned.
Stir in tomatoes with juice, green chiles, corn (drained if using canned), and olives. Heat through.
Place meat mixture into the prepared baking dish. Top with a layer of mashed potatoes.
Bake for 30 minutes. Let stand 10 minutes before serving.

Great as it is, but also delicious served with a dollop of sour cream, salsa or hot sauce.