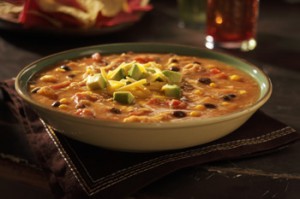 I love soup. It's a frequent star of the dinner menu in my home. It gets me through the very cold Eastern Idaho winters and best of all, I always double the recipe and freeze half of it for later.
One of my favorite recipes is our Southwest Tortilla Soup. It's fast to make and packed full of flavor. It also incorporates my favorite ingredients – the very convenient rotisserie chicken found in most grocery and club stores – and Idahoan Bacon & Cheddar Chipotle Flavored Mashed Potatoes.
I love the rich flavor of the rotisserie chicken (I use the drippings too) and the extra spice and smoky flavor of the chipotle mashed potatoes. I don't use any other herbs or spices with this recipe. The chipotle mashed has all the spice and kick that is needed!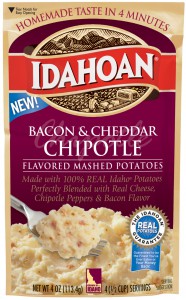 I de-bone the chicken and shred the meat. I like to do this ahead of time so I can make the soup in about 20 minutes. Also a little tip: keep some extra chopped yellow onions in the freezer for soups. It's a great time saver.
One of our employees made this great suggestion on how to serve the soup:  place tortilla strips or crunched up chips on the bottom of an empty soup bowl, add shredded Mexican cheese, chopped green onions and cilantro and ladle the soup over it. Top with a dollop of sour cream. The hot soup soaks the tortilla strips and melts the cheese while nicely thickening it up.
See the full recipe here.
A simple tossed green salad on the side and you have the perfect soup for the countdown to spring!