It was one month ago that the day I've been waiting for—for so, so long—had finally arrived. My mom woke me up in the morning and she said, "Jess, today's your big day."
I took a shower, trying to savor it as my last one for awhile, and relished the fresh, cold milk I poured over my cereal. Then we loaded up my backpack and drove to the Boise Airport.
Marcy, my Shar-Pei/German Shepard, and I boarded the plane at 9:05 to Oakland, and on to San Diego. It took only a few hours to fly what will take me five months to walk. Upon arriving to the San Diego airport, I found out that my bag didn't make it. My backpack—filled with my tent, my stove, my sleeping bag, everything I needed to live—didn't make it to San Diego. It got stuck in Oakland, along with everyone else's bags from Boise. Luckily for the folks working the baggage claim, people from Boise are the nicest.
It only took a few hours to get my pack to San Diego, and then I went to sleep in an RV parked alongside a trail angel's home, my alarm set for 4:45 am. A trail angel, by the way, is anyone who helps a hiker on the Pacific Crest Trail. This particular trail angel, Bob, had picked me up from the airport, driven back to the airport to get my bag, housed me and six other hikers in his home, and drove us to the trailhead in Campo, at the Mexican border, the following morning—all for free. THAT is a trail angel.
The sun was rising when we arrived at the southern terminus of the trail, turning the sky pink and deep purple. My backpack weight pushed 42 pounds with three days of food and seven liters of water. I hoisted Marcy into my arms and someone took our picture. It began.
Now, one month later, I have walked 400 miles. Let that sink in: 400 miles. That's 400 miles of endless footsteps, 60 granola bars and many packages of Idahoan Instant Potatoes.
"My favorite flavors so far include the Fully Loaded Cheddar and Pepper and the Chipotle. They're especially good if you throw in some bacon bits."
400 miles of walking with people from New York, Switzerland, Florida, Australia, Ireland, England, Germany, Israel and Hawaii. So far, no one else from Idaho. 400 miles of aching muscles, little blisters, a bit of pack rash, a sunburned nose, hip inflammation, tendinitis in the knee, beat-up feet, sore shoulders and general discomfort. 400 miles of awesome sunrises, spectacular sunsets, gorgeous mountain views, bright pink/yellow/purple/orange wildflowers, cacti, murky water, snow, sandy trail, extreme heat and extreme cold. Let that sink in: 400 miles.

Unfortunately, Marcy went home. She was a happy dog out here on the trail, but her paw pads were getting too sore and raw. When I put her little hiking booties on, they protected her paws, but gave her blisters on her ankles. Around 100 miles, she started wanting to spend more time lounging in the shade and less time walking. Jake came and picked her up in Warner Springs and after a four-day stint with me to Idyllwild, he took her back to Boise—a very generous act.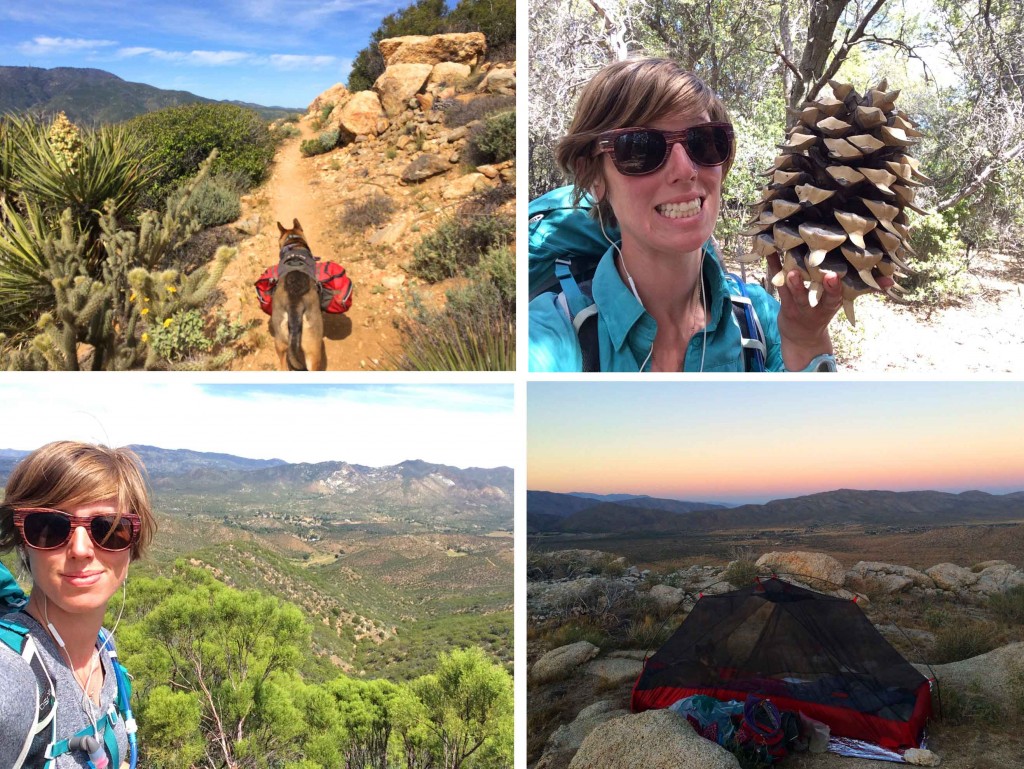 I miss her, but I often look at the rocky, harsh trail and I know she would hate it. I think about the 32 miles I did that one day and I know she would hate that, too. I know it was for the best. I want her to be where she is happy and healthy.
Me, on the other hand, I am feeling the happiest and healthiest of my life. Yes, the trail is a physical challenge to be reckoned with, but the steep uphill always gives way to a gentle grade roaming along the crest of the Southern California mountains. My baseline out here is joy. Even when I'm hungry, cold, tired and sore, my laugh is easy. I still stop to take pictures of the beauty. It helps having good hiking companions.
My favorite hiking companion is a New Yorker named Storytime. We've hiked about 300 miles so far, and it's amazing how well you get to know someone in that time. We talk and tell stories and laugh along the trail. We rest our feet in cold streams and snack on Snickers bars. Storytime even helped me carry my pack 13 and a half miles one day when my knee hurt so bad, I could barely bend it. Often times, we just walk in silence and take it all in.
So, in the past month since my mom woke me up for my big day, I've walked 400 miles. I've taken a few days off for injury and a few days off for fun. I visited a casino for the first time (spent $4 and won $20 from a digital slot machine!), soaked in sweet hot springs, watched a man consume 10 tacos and three margaritas at once (hiker hunger is a real thing), showered out of a bucket, summited two mountains, relied on the kindness of strangers for many rides to town, cried tears of joy over a surprise can of root beer, got pooped on by a bat, got lost twice and ate a lot of instant potatoes.
Despite 400 miles gone by, I'm still excited for the next 10, 20, 100, 400, 2,000 miles of this journey I have left.