It's the same thing every year. Kids are chomping at the bit to don their costumes and hit the street in the pursuit of treats. Parents, often pressed for time, are desperately hoping to get something hot and filling in the kids' stomachs before they go.
Thanks to Idahoan's very own Jenna H., here's a solution that's easy for the parents and fun for the kids.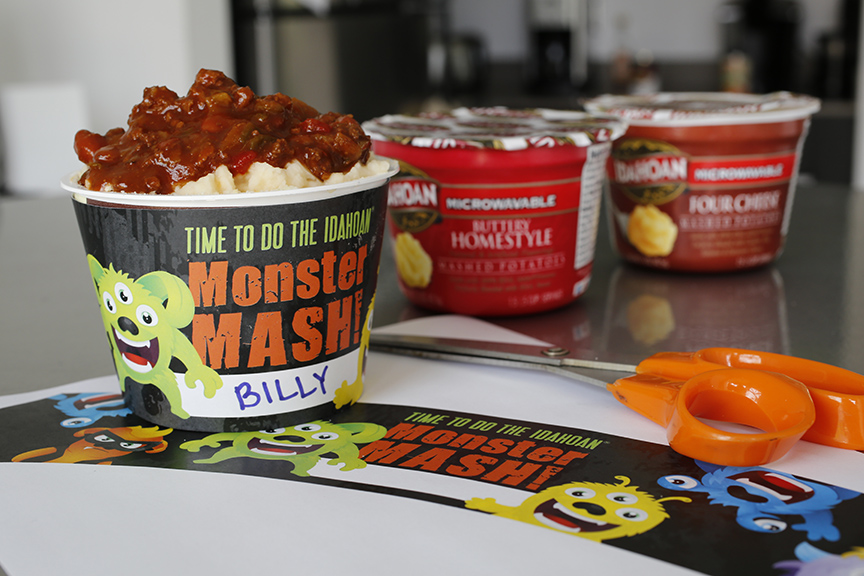 Let's do the Monster Mash!
Print the Monster Mash template and trim out. Write the child's name – or better yet, their Halloween character – in the blank spot on the front.
Heat up a favorite topping. Some ideas include:

Canned beef or chicken chunks topped with your favorite gravy
Chili
Beef Stew
Taco meat and shredded cheddar cheese
Steamed veggies with melted cheese

Prepare Idahoan Mashed Potato Cups – choose Buttery Homestyle, Loaded Baked, Roasted Garlic, Four Cheese or any of our new Fully Loaded cups. Wrap Monster Mash template around cup and secure in place with tape.
Top each prepared cup of mashed potatoes with topping.
Serve for warm bellies on cold nights and hopefully ones that are full enough to not eat too much candy!
Tip: Prepare your toppings the day ahead and be out the door in 15 minutes.
Bonus! Idahoan Single Serve Cups fit in the cup holder in most cars in case you need to take it on the run!
Have a great idea for a topping? We'd love to hear it. Share with us on our Facebook page by Friday, October 30, 2015 for a chance to win your own treat – a gift box of Idahoan products!