I look forward to the day I come home each month to find the newest edition of Bon Appetit sticking out of my mailbox. I like the stories of travel and the food, both near and a far. I like the photographic styling and editorial approach (an influence you might recognize in some of the shots we do for Idahoan). I like the tips and techniques. And of course, I like the recipes.
A couple months ago there was an article about a pop up lunch spot in Sweden called the Saltimporten Canteen. I read it and then didn't think that much more about it since I really know almost nothing about Swedish cuisine.
Then recently the Build the Perfect Sandwich edition shows up and one of the recipes that caught my eye was for an open-face Scandinavian sandwich called a Smørrebrød. Not only did it look delicious, but it included a layer of mashed potatoes, so I knew it was time to try my hand at Swedish cuisine, with an Idahoan twist, of course.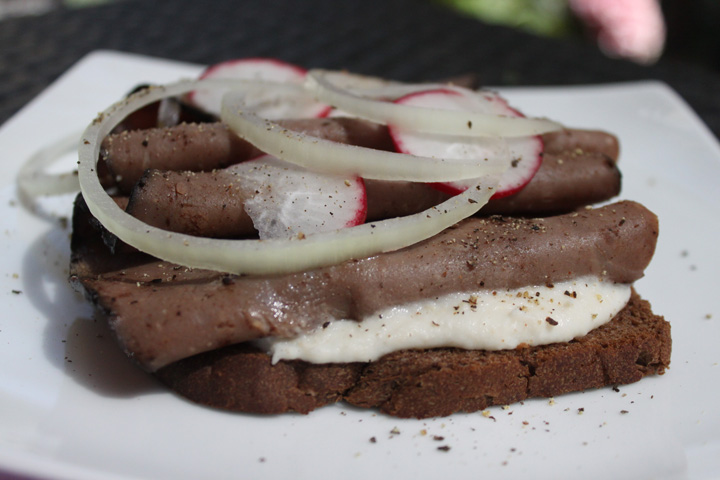 Roast Beef Smørrebrød
Serves 4
1/2 cup prepared Idahoan® Italian Romano White Cheese Flavored Mashed Potatoes
2 thin slices of onion
Vinegar
1/2 cup plain yogurt or sour cream
1 Tbsp prepared horseradish
1 tsp fresh lemon juice
4 slices dark rye bread
8 oz sliced roast beef
2 radishes, thinly sliced
Freshly ground black pepper
Do a quick pickle on the onions by placing them in a shallow dish and top with just enough vinegar to cover. I used rice wine vinegar but white vinegar will work just fine too. Let sit while you put together the rest of the sandwich.
Combine prepared mashed potatoes, yogurt or sour cream, horseradish and lemon juice in a small bowl and stir throughly. Set aside.
Toast the rye bread. This adds a nice crispness to the bottom of the sandwich and helps the bread hold up better to the toppings. Spread 1/4 of the horseradish cream on the toast and top with the sliced roast beef. Finish with the radish slices and the pickled onions. Season with a grind of fresh black pepper and dig in!