Several years ago, I worked for an Idaho company that transferred several employees to a site in West Virginia. As in many situations, we found that the best way to forge a new culture was through food. Our potlucks, set up in a huge warehouse on butcher paper covered tables, were spectacular. Our new West Virginian family specialized in "covered dishes", side dishes that no doubt had been handed down through generations, tried and true recipes that were coveted family traditions.
Feeling the pressure to represent the state of Idaho at one of our potlucks, one of our transplants, Bea, decided to make potato salad as her contribution to the feast. Bea showed up with a huge bowl of her potato salad with an unhappy and slightly embarrassed look on her face. Bea had overcooked her potatoes and her potato salad was now a mashed potato salad. I thought it was absolutely delicious and the texture of the mashed versus the chunky potato was an appealing change.
All these years, I have thought about Bea's "mistake" when I have had a hankering for a really good potato salad. Getting no encouragement from my other half, a self-described potato salad hater, I never made the attempt to replicate the recipe – until this weekend.
The Baby Reds lend the flavor and texture to the perfect mashed potato salad. Using real mayonnaise mixed with the two mustards add richness to the dressing. I am really happy to report that my husband is now a convert and loves the recipe. No small feat!
Thanks Bea for your inspiration.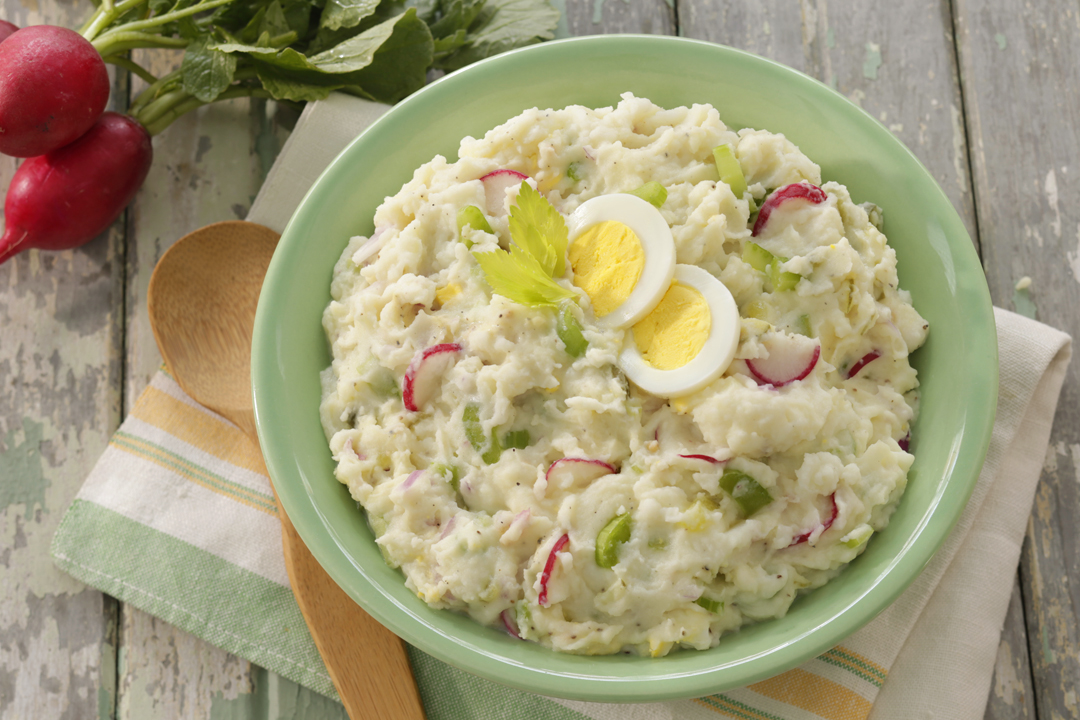 Bea's Mashed Potato Salad
Serves 4
1 4-oz package Idahoan® Baby Reds® Flavored Mashed Potatoes
1 dill pickle, finely chopped
3 radishes, thinly sliced
1 hard-boiled egg, sliced
2 celery stalks, finely chopped
2 Tbsp red onion, finely chopped
3 Tbsp mayo
1 Tbsp stone ground mustard
1 tsp yellow mustard
Salt and pepper to taste
¼ tsp. celery seed (optional)
Prepare Idahoan Baby Reds following package instructions. Stir in pickles, radishes, hard-boiled egg, celery and red onion. Combine mayo and mustards in a separate bowl and mix into mashed potato mixture. Season to taste with salt and pepper and celery seed if using.