It seems like necessity can trigger a spark of creativity. We had a "spark" a couple of years ago at a food show in New Orleans. In the heat and humidity of a NOLA summer, it's almost impossible to keep a large conference center cool not to mention all of the heat generated from multiple chafing dishes holding hot mashed potatoes and casseroles. We needed a reprieve.
The next morning we were highly motivated for a solution. We made a quick trip to Walmart to purchase sour cream, salsa, chopped black olives, green onions and several of our flavored mashed potato pouches. We crossed our fingers and hoped the cold concoction was delicious. Long story short, we were swamped with conference attendees wanting to try our dip. If word of mouth can go viral it did for the next two days. Last year the conference was in Las Vegas and the requests from the prior year's attendees for the recipe was overwhelming. We had to make it again!
This month we have a new inspiration, Bacon & Cheddar Chipotle Flavored Mashed Potatoes. It's now the base for Fiesta Dip and many of our favorite southwest inspired recipes. We stepped back into the kitchen this week to make our recipes with added smoky richness. The quantities listed for this recipe will feed a crowd!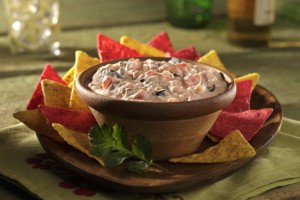 Fiesta Dip
Serves 8
1  4-oz package Idahoan Bacon & Cheddar Chipotle Flavored Mashed Potatoes, dry
24 oz sour cream
64 oz chunky salsa at room temperature
1 small can of chopped olives
Green onions or cilantro, chopped for decoration
Tortilla or potato chips for dipping
Mix dry Idahoan mashed potatoes with sour cream, salsa and olives. The secret to the success of Fiesta Dip is to add the potato pouch to room temperature salsa. This will ensure that the potato flakes will rehydrate correctly. Let stand at room temperature for 15 minutes before serving. Garnish with green onions or cilantro. Serve with corn chips.
Stay in touch because we will have new recipes in the next few days featuring Bacon & Cheddar Chipotle as one of the ingredients. And for our food show fans, we will be making  Fiesta Dip again in Chicago mid-July!