A couple of years ago, I was given the challenge of preparing all of our recipes for a national broker meeting to be held at beautiful Teton Springs Lodge and Spa in Victor, Idaho. Feeling the pressure, I set about developing intricate shopping lists, kitchen equipment needs, and lining up my voluntary sous chefs.
One of the original Idahoan recipes that had been around since the 60's was a chocolate cake made with prepared mashed potatoes –  rumored to have been developed by the wife of one of our former owners. Ok… it sounded a little strange but I had my game face on. What I didn't factor in with all of my planning though was baking at altitude – 6300' to be exact. The cake was a disaster but with a lot of chocolate frosting and a cute little chocolate espresso bean on top of each serving, it still looked pretty and our brokers were really hungry.
I have had many requests for cake recipes made with potatoes since I met my baking Waterloo in Victor. My response has always been to shudder and quickly change the subject…until last week. Feeling the need to cheer up my spouse since his team was losing the Super Bowl, I set to baking his favorite food group, chocolate dessert. I found an archived recipe in my big binder of proven winners – Molten Chocolate Lava Cake. My recollection was a nicely deep chocolate cake with an ooey gooey inside. Challenge on!
Potato flakes or potato flour used in baking makes the end result more moist and also shelf stable. For this adaptation I omitted flour and simply substituted Idahoan® Original Mashed Potatoes. Unlike the old recipe there is no need to rehydrate – use it in its dry form. A great side benefit was that my six little cakes are now gluten free!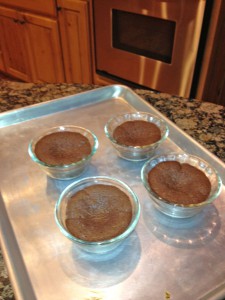 One note is that you must watch the baking time on the cakes. Remove too early and molten will be the operative word – bake too long and they will be brownies. Also, don't skimp on the quality of chocolate that you use.
I recommend topping the cakes with a rich vanilla ice cream with chocolate shavings. My much happier spouse preferred the straight-out-of-the-ramekin approach with a spoon.
Find the complete recipe here.
Happy Valentine's Day! Make your Valentine something special.