While biscuits and gravy might be considered a Southern recipe, it's certainly not just for Southerners. We love the dish for a hearty breakfast that is sure to keep us fueled, whether it's a day of farming or a day of fun.
The Origins of Biscuits and Gravy
While the dish may seem decadent to many now, it comes from humble beginnings. And those beginnings were a far cry from the flaky biscuits and creamy, sausage gravy that we think of now. In Southern Appalachia, where lumber was one of the primary industries, the workers needed a filling meal that was inexpensive to make. Pork was the protein of the poor. It releases so much fat when cooked that it was easy to mix with flour, which was readily available and inexpensive. The result was a flavorful gravy, also known as "sawmill gravy," and was a way to make the hard biscuits, also called "beaten biscuits," more palatable.
The biscuits became more of what we think of today when baking soda and powder became available in the late 1800s. In the 1930s, refrigerated biscuits in a tube made their debut making the dish even more convenient to make.
Interested in a more in-depth account of the history of biscuits and gravy? Find it here.
While biscuits and gravy have humble roots in the South, the popularity of the dish has spread across the country, landing on menus at diners as well as upscale restaurants and hotels. With an Instagram tag that has almost 200,000 posts, the popularity of the dish is evident.
Cheddar Cheese Biscuits and Gravy
Below is our take on this classic, Idahoan style! Using our Italian Sausage Soup gives the recipe a delicious head-start!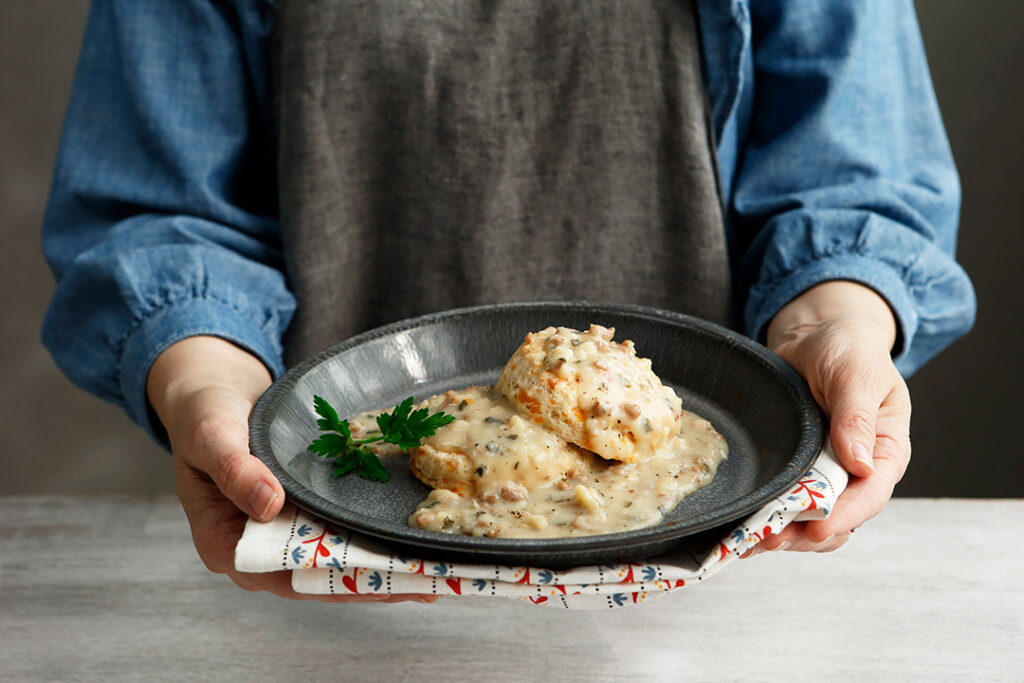 Ingredients
2 cups all-purpose flour
2 tablespoons sugar
2 teaspoons baking powder
½ teaspoons salt
½ cup butter, cold and cut into small dice
1 cup buttermilk
1 cup shredded cheddar cheese
2-4 oz packages Idahoan Italian Sausage Soup
Instructions
Preheat oven to 425°F.
In a large bowl, mix together the flour, sugar, baking powder and salt.
Cut in the butter, using a fork or pastry tool.
Add the buttermilk and cheese, alternating a little of each at a time and mix until blended with the flour mixture. Do not over mix.
Roll dough out on a floured surface to ½ inch thickness. Using a biscuit cutter, cut into 12 rounds and place on a parchment-lined baking sheet.
Bake for five minutes at 425°F, then reduce temperature to 400°F and bake for 5-7 minutes more or until lightly golden.
Meanwhile, prepare Italian Sausage Soup following package directions. NOTE: For thicker "gravy", reduce liquid by ¼ cup.
Split biscuits in half, spoon gravy on and serve.
Hungry for more? Make sure and check out our Potato Dill Biscuits!