Millions of Years Ago
Volcanoes Shape The Land Over six million years ago, stretching and thinning of the Earth's crust caused movement along the Teton fault forming the most beautiful and dramatic mountain range…the result set the stage to grow the most famous potatoes in the world.
1837
Farming Begins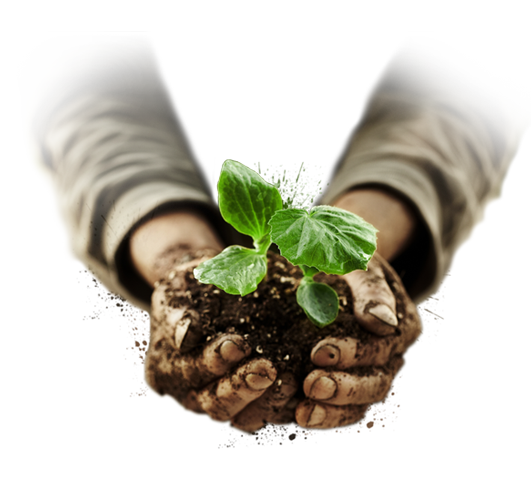 Henry H. Spalding, a Presbyterian missionary, becomes the first potato farmer within the borders of what is now known as the State of Idaho.
1872
The Burbank Russet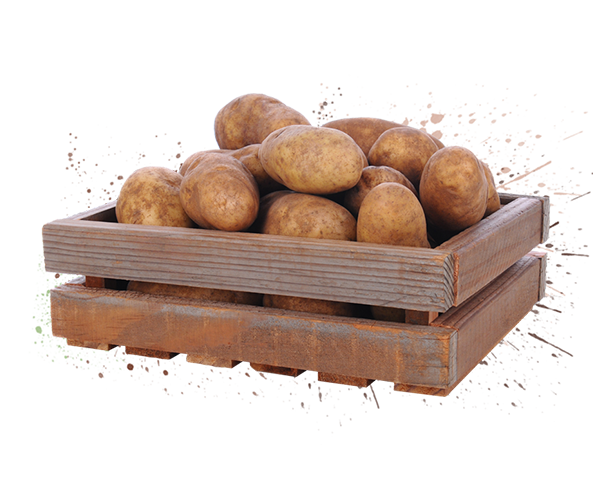 Luther Burbank develops the first "Burbank Russet" potato that eventually finds its home in Idaho. The desirable texture of the Burbank Russet makes it a perfect candidate for America's Favorite Mashed Potatoes.
1890
The Great State of Idaho
Idaho is admitted to the Union as the 43rd state on July 3rd, 1890.   With over 83,000 square miles of rugged, beautiful terrain, it truly earns its nick name—The Gem State.  To us at Idahoan, the most precious gems of all are Idaho Potatoes.
1942
Dehydration Developed
In an effort to find more shelf stable meals for our troops, the first potato dehydration process was developed for the military.  While this early, primitive process is still used by many dehydrated potato sellers to this day, Idahoan strives for higher quality.
1951
Idahoan® is Born
A group of local Lewisville, Idaho growers decide to join forces to start a potato dehydration plant—the Idahoan brand was born.
1990
The REAL Process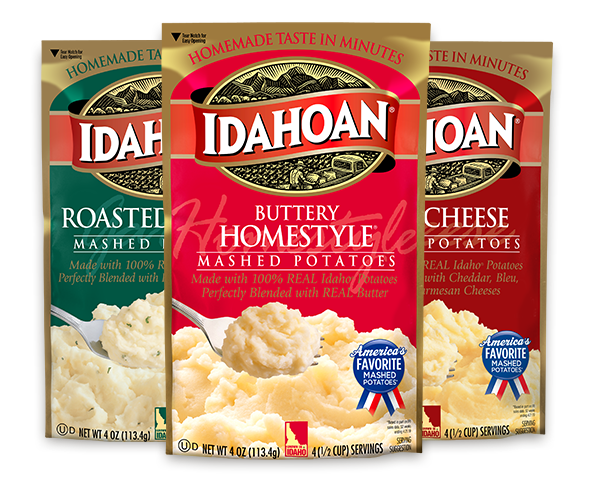 Idahoan developed a proprietary, innovative dehydration process that better preserves natural potato taste and texture.  With this process in place, we launched new flavored mashed potatoes in a pouch—Buttery Homestyle®, Four Cheese, and Roasted Garlic.  Over the years we have added other delicious flavors such as Loaded Baked®, Baby Reds®, Bacon Cheddar Chipotle and more!
Over the Years
Expanding our Offerings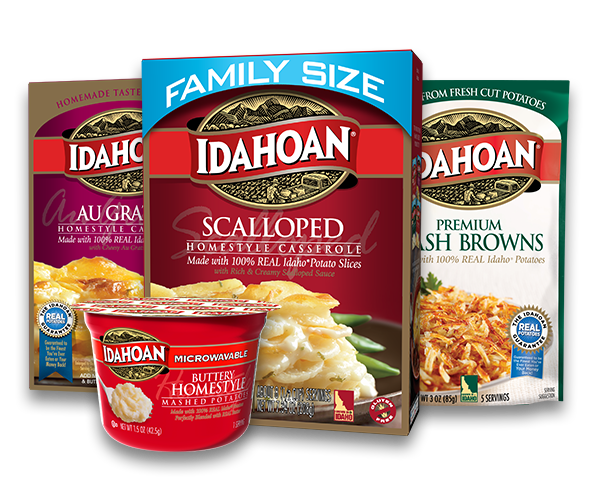 Over the years we've added a number of delicious and convenient products to the Idahoan family. Whether you're looking for casseroles in both regular and family size, crispy & savory hash browns, or America's favorite mashed potatoes in an on-the-go cup, we have something for everyone!
2015
Idahoan Hearty Soups
In 2015 Idahoan launched potato soups.  With hearty soup flavors like Creamy Potato, Loaded, Cheddar & Broccoli and more, the whole family can enjoy them.
The Future
And Beyond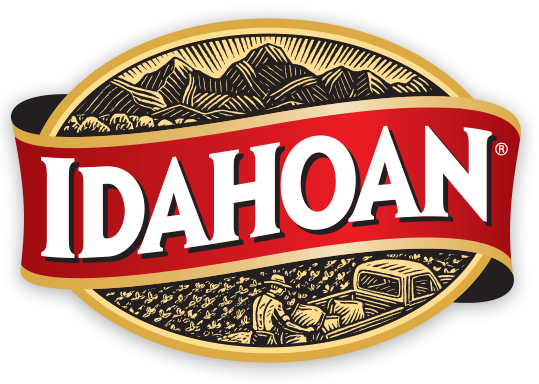 Our mission of innovation will continue to bring you quality 100% REAL Idaho® potatoes in all the ways you love.  Whether it's quality mashed potatoes, soups, casseroles or hash browns, in a pouch, bowl, cup or more, Idahoan Foods will continue to bring you Homemade Taste—Every Time®.