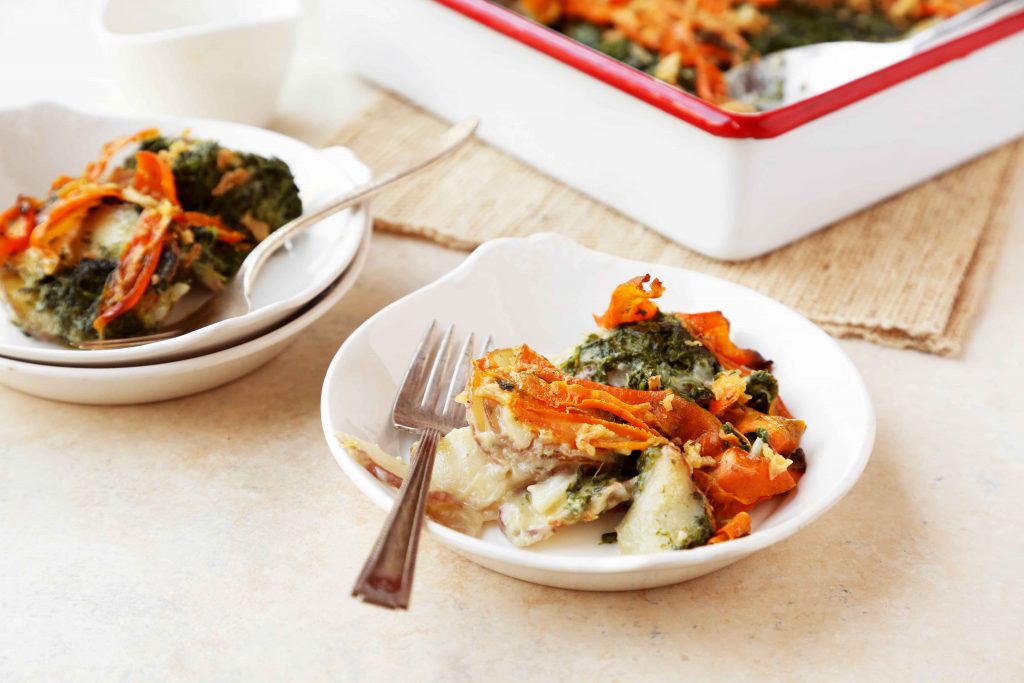 Easy classic scalloped potatoes get added nutrition and color from spinach and carrots, making a tri-layered flavorful side dish. Try this to go along with roast chicken, pork chops, steak or fish.

Scalloped Potatoes with Spinach and Carrots
Ingredients
1 - 10 oz carton frozen chopped spinach
1 large carrot, washed, green top removed
1 - 5.22 oz box Idahoan® Scalloped Potatoes
2 Tbsp butter
2 cups water, boiling
½ cup milk
Instructions
Heat oven to 450° F. Spray an 8-inch square baking dish with nonstick spray and set aside.
Thaw frozen spinach (you can do this easily by putting the package in the microwave and cooking it for 30-second increments until it is thawed; it should take about 1 ½ minutes). When thawed, squeeze the water out with your hands and reserve the spinach. Set aside.
Using a vegetable peeler, make carrot ribbons from the whole carrot. To do this, hold the carrot by the thick end and slide the vegetable peeler away from you. This will create thin ribbons of carrot. Set aside.
Follow directions on potato package: In the prepared baking dish, add dried potatoes, contents of sauce pouch, butter and boiling water. Stir to combine, which will dissolve the mix and melt the butter. Add milk and stir to combine.
Using your hands, break up the spinach into very small pieces and place them on top of the potato mixture in a layer. Add the carrot ribbons on top of the spinach in a layer, making sure they lay flat. Tamp down a bit with your fingers.
Bake, uncovered, at 450° F for 25 minutes.
Remove from oven, let stand 5 minutes, and then serve.